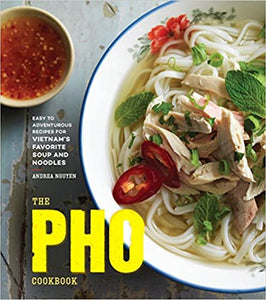 Winner of the 2018 James Beard Foundation Book Award for "Single Subject" category

With this comprehensive cookbook, Vietnam's most beloved, aromatic comfort food--the broth and noodle soup known as pho--is now within your reach.
Author Andrea Nguyen first tasted pho in Vietnam as a child, sitting at a Saigon street stall with her parents. That experience sparked a lifelong love of the iconic noodle soup, long before it became a cult food item in the United States.
Here Andrea dives deep into pho's lively past, visiting its birthplace and then teaching you how to successfully make it at home. Options range from quick weeknight cheats to impressive weekend feasts with broth and condiments from scratch, as well as other pho rice noodle favorites. Over fifty versatile recipes, including snacks, salads, companion dishes, and vegetarian and gluten-free options, welcome everyone to the pho table.
With a thoughtful guide on ingredients and techniques, plus evocative location photography and deep historical knowledge, The Pho Cookbook enables you to make this comforting classic your own.