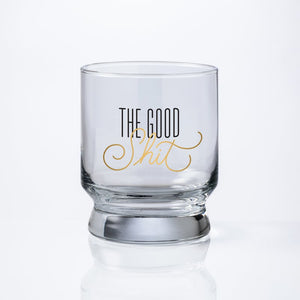 If we're honest, some days, anything with alcohol counts. This elegant and refined smoke-tinted glass from Brass Monkey is perfect for turning drinking on a weeknight" into a distinguished affair.
• Distinctive ombre smoke-colored glass.
• Features metallic gold and black "The Good Shit" artwork.
• Holds 12 oz. of liquid, you know, for drinking.
• Measures 3.34" in diameter & 3.5" tall.
• We'd hand wash these. . . but it's your life."