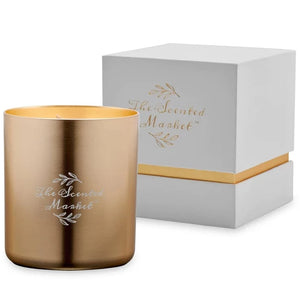 Wood wick candle care tips:
- Trim the wick and dust off the black tip before you light/relight it
- Always snuff out your candle, never blow it out
- Burn for a max of 4 hours per burn
Each 10 oz candle has a burn time of approx. 60 hours and comes in a reusable copper candle vessel. This candle is a blend of soy and palm wax for the best burn of a wood wick.
Each candle is hand poured in small batches to ensure quality.

Our all natural soy wax is 100% renewable and 

sustainable

Our tin is recyclable or 

reusable

Our essential oils are Phthalate free

Dye Fee *Soot Free *Gluten Free *Vegan Friendly