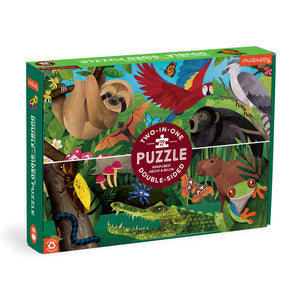 Mudpuppy's Rainforest Above & Below 100 Piece Double-Sided Puzzle features bright and colorful animals that live above the rainforest floor and cool and unique animals that live underneath the rainforest canopy. This two-in-one puzzle is a great family activity for adults and children to enjoy together. Puzzle pieces come packaged in a sturdy and easy-to-wrap box, perfect for gifting, reuse, and storage.
• 100 pieces double-sided; front side glossy and back side matte
• Assembled puzzle measures: 22 x 16.5", 55 x 42 cm
• Box measures: 12.5 x 9 x 2", 32 x 23 x 5 cm
• Ages 6+
• Puzzle greyboard contains 90% recycled paper. Packaging contains 70% recycled paper. Printed with nontoxic inks.