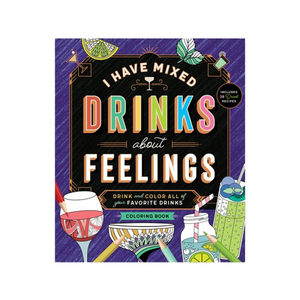 The Creative Drinker Coloring Book
 by Brass Monkey includes 
recipes and color-able illustrations for38 different cocktails. So just make a few and start coloring. It's a perfect excuse for your questionable color choices.
• Creative Coloring Book - Features 38 unique drink recipes (with corresponding images to color while you're drinking them). Coloring book measures 8 by 10".
• It's in the Details - This unique coloring book includes a paperback cover with Spot UV varnish (aka: it's shiny in places. . . oooh, fancy) as well as 80 one-color pages (you get to add the color. . . that's how a coloring book works).