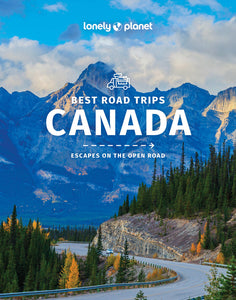 Inside Lonely Planet's
Canada's
Best Trips
:Up-to-date information -
all businesses were rechecked before publication to ensure they are still open after
2020's COVID-19 outbreak
Lavish color
and gorgeous photography throughout
Itineraries and planning advice
 to pick the right tailored trips for your needs and interests
Get around easily
 - easy-to-read, full-color route maps, detailed directions
Insider tips
 to get around like a local, avoid trouble spots and be safe on the road - local driving rules, parking, toll roads
Essential infoat your fingertips
 - hours of operation, phone numbers, websites, prices
Honest reviews for all budgets
 - eating, sleeping, sightseeing, hidden gems that most guidebooks miss
Useful features
 - including
Stretch Your Legs,Detours, Link Your TripCovers
 British Columbia & Yukon Territory, Alberta, Saskatchewan & Manitoba, Ontario, Quebec, Nova Scotia, New Brunswick & Prince Edward Island, and more
The Perfect Choice:Lonely Planet
Canada's Best Trips
is perfect for exploring Canada via the road and discovering sights that are more accessible by car.
Planning a Canada trip sans a car?
Lonely Planet's
Canada
, our most comprehensive guide to Canada, is perfect for exploring both top sights and lesser-known gems.
Looking for a guide focused on a specific destination? Check out
Lonely Planet's
Montreal and Quebec city guide, Vancouver & Victoria,
or
British Columbia & the Canadian Rockies
guides for a comprehensive look at all that these areas have to offer, or
Pocket
Montreal and Quebec city, Pocket Toronto,
or
Pocket
Vancouver
, handy-sized guides focused on the can't-miss sights for a quick trip.
About Lonely Planet:
Lonely Planet is a leading travel media company, providing both inspiring and trustworthy information for every kind of traveler since 1973. Over the past four decades, we've printed over 145 million guidebooks and phrasebooks for 120 languages, and grown a dedicated, passionate global community of travelers. You'll also find our content online, and in mobile apps, videos, 14 languages, armchair and lifestyle books, ebooks, and more, enabling you to explore every day.