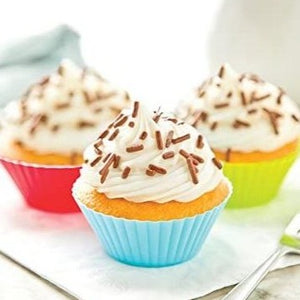 The Fox Run Silicone Baking Cups come in a set of 12 and are reusable. The baking cups are standard size (3 x 3 x 2 inches / 7.6 x 7.6 x 5 cm) and are made from naturally non-stick silicone. The set includes green, orange, yellow, blue, red, and purple cups and they are dishwasher safe.
Using these bake cups you will be able to avoid greasing and washing your pans while preventing burning and sticking. Simply place the baking cups into your muffin or cupcake tin and fill with your favorite batters.
The silicone baking cups preserve the moist texture and shape of your baked goods while adding some color and character. These silicone baking liners are perfect for cupcakes, muffins, candies, nuts, and other desserts. The colorful set of 12 is great for birthday parties and other events.