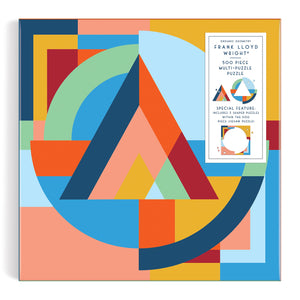 The Frank Lloyd Wright Organic Geometry 500 Piece Multi-Puzzle Puzzle features the iconic artwork of Frank Lloyd Wright for a beautiful and challenging puzzling activity. This puzzle also includes 3 mini shaped puzzles within for a twist to the classic 500-piece puzzle format. Galison puzzles are packaged in matte-finish sturdy boxes, perfect for gifting, reuse, and storage. An insert of the full puzzle image is also included.
• Box: 8 x 8 x 1.6", 203 x 203 x 41 mm
• 500 Piece Puzzle: 20 x 20", 508 x 508 mm
• Includes 3 shaped puzzles within the 500-piece jigsaw puzzle!
• Includes Puzzle Insert