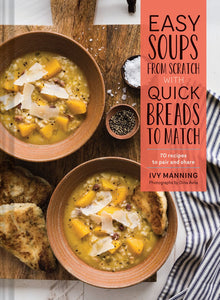 Nothing is more comforting at the end of the day than a hearty bowl of homemade soup accompanied by freshly baked bread, and this book shows home cooks how to do it in under an hour. 
Easy Soups from Scratch with Quick Breads to Match
 makes it simple to create delicious, nourishing soups and warm, toothsome breads for any day of the week with straight-forward, time-saving recipes. With 70 soups and breads to mix and match, soup lovers can choose from cozy classics like Farro Minestrone with Roasted Garlic Focaccia or international flavors like Barbecue Pork and Miso Ramen with Flaky Green Onion Pancakes. Readers can rely on helpful troubleshooting tricks and get-ahead tips to make these winning combinations come out perfect every time.