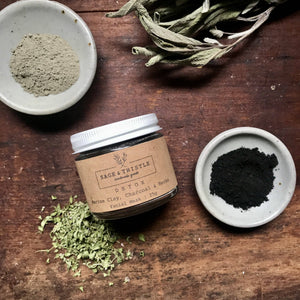 DETOX your skin with this all-natural, gently detoxifying facial mask.
Made with powerful Canadian Marine Clay & Activated Charcoal to open pores and draw out impurities, and organic antimicrobial Sage & Lemon Thyme from the Sage & Thistle Urban Garden. Organic Matcha tea adds an antioxidant boost, making this deeply cleansing & nourishing mask the perfect addition to your weekly regimen!
Suitable for all skin types, and great for acneic skin & folx prone to hormonal breakouts.
To use: Add 1-2 teaspoons of dry mask powder to a small dish, and add enough of your favorite liquid to make a thin paste.
Made in Canada