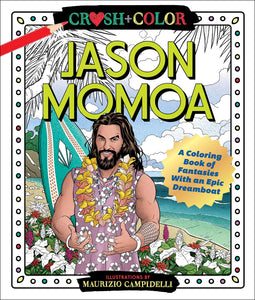 A fantasy-filled coloring book for the millions of Jason Momoa fans
Escape to your very own rugged utopia with your favorite star! 
Crush and Color: Jason Momoa
 is a collection of daydreams come to life on incredible coloring pages. Immerse yourself in more than 35 completely unique, life-like drawings of the rugged dreamboat in the zone and on top of the world.
Let him take the helm on a sunset sail, witness impressive physical strength as he scales a colossal cliffside, and take in the serenity of quieter moments through colorable works of art.
Caught on every page is Jason's breezy charm and irresistible vigour ready for coloring detail. Color your way to a dreamier day with enamouring reveries and stirring displays of masculinity on each page!
-Get smitten with more than 35 hand-drawn Momoa moments
-Perforated pages make it easy to display the object of your romance or bromance