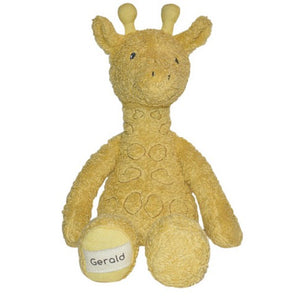 Gerald the Giraffe is so excited to be coming to a special little one for loads of cuddling. Being made from soft organic fabric he is perfect for lots of cuddling and hugs.
Embroidered eyes.
Age Recommendation: 0+ months
Height: 15"
Mane, Horn & Right foot pads – 100% Cotton Seer-crinkle muslin
Skin – 100% Organic Cotton Sherpa
Filling – Recycled Polyester
For light cleaning, wipe surface of the toy with soapy water and a damp cloth, air dry and allow moisture inside toys to drain.