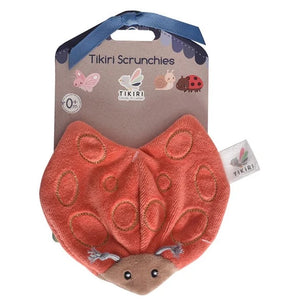 Crinkle, crackle, crunch – creating so much fun. Our crinkle toys deliver a delightfully sensory experience that keeps babies engaged and entertained, while the cute Lady Bug shape and colors add to their experience. Not only does this toy help busy parents distract a fussy or wriggly baby, but it is an ideal early developmental toy stimulating motor skills, coordination, and focus.

• Red and brown ladybug with wonderfully embroidered details.
• Crinkle Paper filling creates a great sensory and developmental experience for babies, promoting motor skills, coordination, focus and stimulating brain activity.
• Easy for little fingers to grip and maneuver.
• Great for keeping babies entertained and engaged.
• Please refer packaging for further care and safety instructions. 
Age Recommendation:  0+ months
Height:  4.3. inches 
Body - Organic Cotton Velour